Bath resurfacing, bath chip repair, acrylic bath repair, and re-enamel bath services in Portsmouth
Resurface Coatings rank among the largest distributors of refinishing products and coatings in the country, and we are proud to act as their commercial operating division. Combining their quality materials with our reputation for excellence it is what has made us the number one bath resurfacing company in the region.
A full bath repair package
With fifty years under our collective belts, and access to the finest NAPCO resurfacing products, we can provide an excellent solution to your bathroom needs, whatever they might be.
Bath resurfacing
Bath resurfacing is when we freshen up a scratched, scarred and dingy bath by applying a fresh coat and finish to it. The result is a gleaming, spotless bath.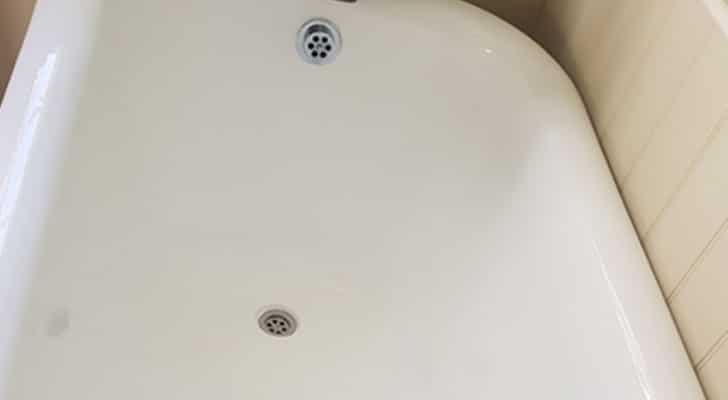 Bath chip repair
As well as resurfacing, we can also repair more serious damage to your bath, such as cracks and chips, matching the repaired area seamlessly with the original surface.
Acrylic bath repair
Acrylic baths can sometimes suffer badly from surface damage, includes scratches, abrasions, and cracks. While there are many products on the market promising an easy DIY fix, they often make it more of a mess. At Bathman Services & Perfect Baths, we offer a professional solution, and a clean finish.
Other services
Of course, it is not just baths, and it is not just acrylics and enamel. As experts in all manner of bathroom repair we can also deal with shower trays, offering the same quality of repair that we do for baths. We will also re-enamel baths for you, and handle fixtures and fittings made from steel, cast iron, stone resin, plastic, fibreglass – pretty much anything, really. Whatever your bathroom dilemma, we are here to help you.
Your local bath resurfacing company
For five decades now, Bathman Services & Perfect Baths has been operating successfully locally & nationally. We are a local firm, dedicated to our client base in and around the Dorset and Hampshire area, and between us, we have been working in the bath resurfacing industry for half a century and more. No local firm offers greater experience or expertise in this sector than Bathman Services & Perfect Baths.